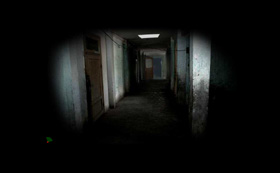 The idea was to produce a site that focused on an 'experience' rather than the usual linear levels of content so often seen on many other gaming web sites.
This attitude and direction of creating an experience for the user made a playful challenge for designing the navigation, corridors and rooms.
The main room for navigation, 'The Lab', has sources of content that were designed as interactive elements; such as the gun case, the files, the photographs on the wall and the cctv monitors.
The atmosphere was brought to life by the animation skills of UNIT9's Ben Hibon and Alex Jenkins, not to mention the sound design of Steve Nolan.
---
Credits
Division

Brand

Interactive Director

Animation

Design

Sound Design

Production Company
Kind

Industry

Release Date

2014-12-12