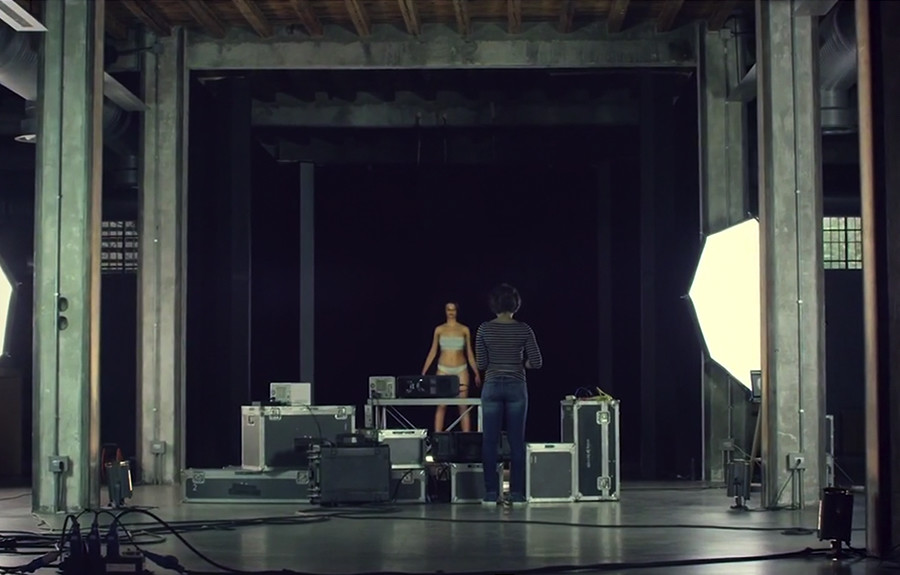 Acqua Vitasnella: The Perfect Woman
UNIT9 partnered with one of Italy's most popular water brands, to create a live experiment using real-time projection mapping. The project, Acqua Vitasnella: The Perfect Woman, promoted their philosophy of living a natural life by spotlighting our often grotesque expectations of women's bodies.
The live experiment was conducted among eight, randomly selected men and women from Milan. After examining the plus size model in front of them, each of the panel members – all of different ages, working in a variety of disciplines, representing the general Italian population – were asked to adjust the model's "problem zones" using UNIT9's ipad app, developed specifically for the project.
Individuals used a control slider to augment the model's cheeks, legs and torso until she had their ideal female face and body. Other potential alterations included enlarging her eyes, making her cheekbones more prominent, and changing the shape of her nose, mouth, bottom and breasts.
The body modifications were then projected back onto the model to show how her artificially augmented body distorted her image. It also drew attention to peoples' different perceptions of what it means to be beautiful.
A 3D scan and a newly developed head tracking system enabled the tech team to capture head and body movements in real time in order to create shockingly realistic illusions. We filmed the eight men and women taking part in the experiment behind the scenes to ensure that those viewing the project knew it was not staged.
We collaborated with advertising agency Saatchi & Saatchi Italy to make use of real-time projection mapping in order to visualise projected ideals of the female form. The project showed that what we perceive as beautiful can sometimes be grotesque since it is a distortion of what is natural.
The technical aspect of the project was quite challenging since we had to reconstruct the model's body in 3D, put a skeleton into it and control the shapes and transformations input into a remote tablet – all in real time. The result was then sent to a projector, which mapped the result back on the model's body.
We decided to use an Apple iPod 5th Generation rigged to the model's head to track her movement. The device is lightweight and incredibly thin. The iPod was connected via a socket to the Unity3D application and sent out smoothed values from the sensors and replicated 3D in real-time.
In line with Vitasnella's mission to promote a natural lifestyle, this live experiment empowers women to accept their diverse bodies and live a healthy, natural lifestyle that does not involve artificially augmenting them. The project concludes that the perfect woman is one that is at her best when being herself.
It premiered in Italy in early March, in anticipation of Women's Day on the 8th, when it was presented at a live conference.
---
Credits
Division

Agency

Creative Director

Producer

Project Manager

Tech Lead

3D Artist

3D Artist

Unity Developer

Marketing Creative

Marketing Creative
Technology

Platform

Kind

Industry

Target Market

Release Date

2015-03-09