Shield Attack is a mobile controlled Desktop/TV arcade game, allowing for anyone to use their Smartphone to throw shields into a game environment on their Desktop or TV.
FWA's App of the Day! [The FWA, June 26, 2012]
"Shield Attack is now one of the top 10 hottest apps on AppBrain!"[AppBrain, June 17, 2012]
"Shield Attack is undoubtedly one of the most original games we've seen in ages. Simple, elegant, and beautifully done. With the low, low price of free, what are you waiting for?" [Android Police, June 13, 2012]/p>
"Shield Attack – It is easy to get excited when game developers look outside the box and change up the way we think of mobile gaming." [Droid-Life, June 25, 2012]
"Shield Attack is a new gesture based mobile-desktop that offers real Nintendo Wii-esque motion controller gaming experience with a smartphone. Rated 5/5!"[Techie Buzz, June 24th, 2012]
"Its experimental use of technology is fascinating." [WSJ, July 3rd, 2012]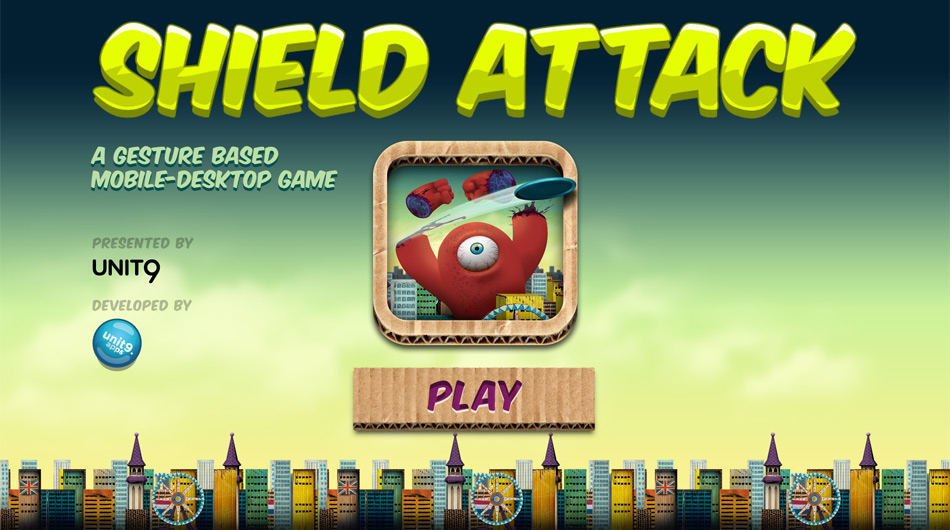 The Player can choose to use real throw gestures or flick the shield on the mobile screen to slice through and destroy anything on the big screen.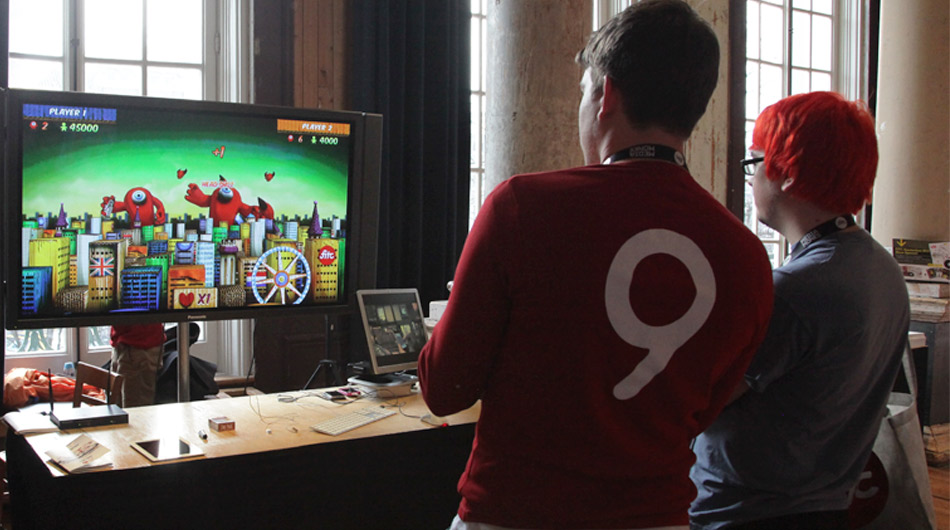 By using mobile gesture recognition technology connected to an entire 3D City we have created a new way for smartphone users to interact with their TVs.
The mobile application was developed using Adobe AIR with Flash (which gave us flexibility on the app's distribution by using the same source for different platforms) and is seamlessly connected to the Unity Game through a HTML5 WebSocket.
Creating the game environment in Unity allowed us to introduce mesh slicing to all the 3D buildings in the city, meaning that the player has complete freedom to slice any building, at any point, at any angle.
The player is confronted with a cityscape being invaded by alien monsters. Prepared to save the human population of the alien threat, the player will soon relies that the monsters have not come to the city to destroy it, but are instead here to defend it! … how much carnage can you cause?
The App is the Controller for the Shield Attack Mobile to Desktop/TV Game!
Download the App, go to shieldattack.com on your Desktop, sync your device by entering the connection code and flick shields from your mobile!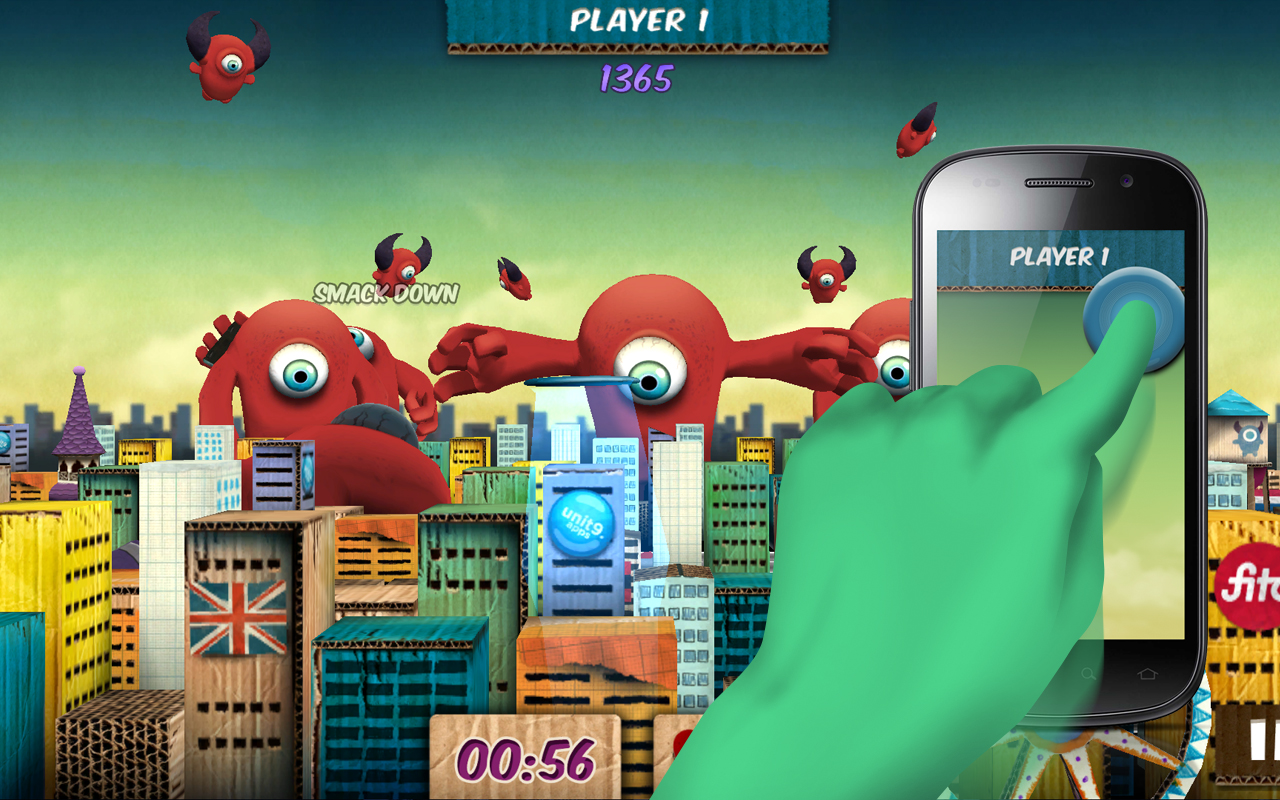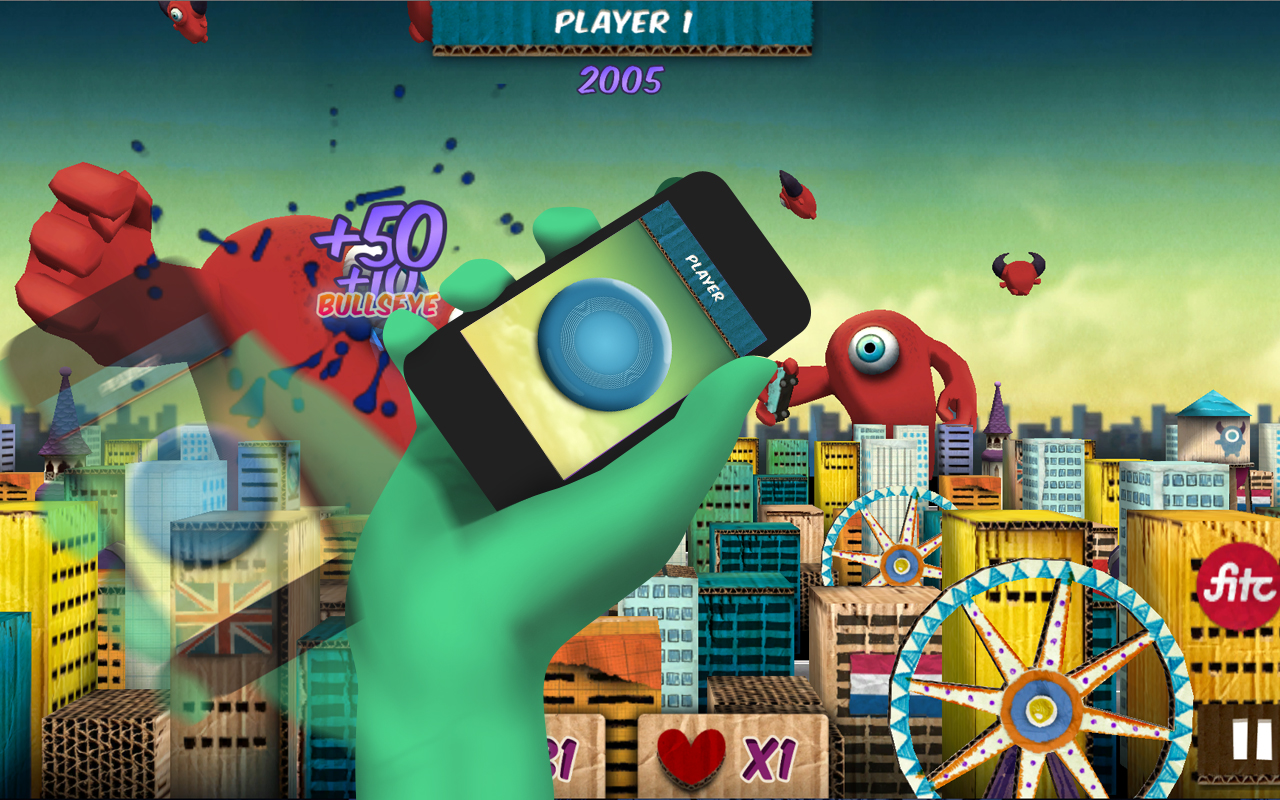 The user has to calibrate their smartphone with the desktop/tv so that flicking and throw gestures are as accurate as possible.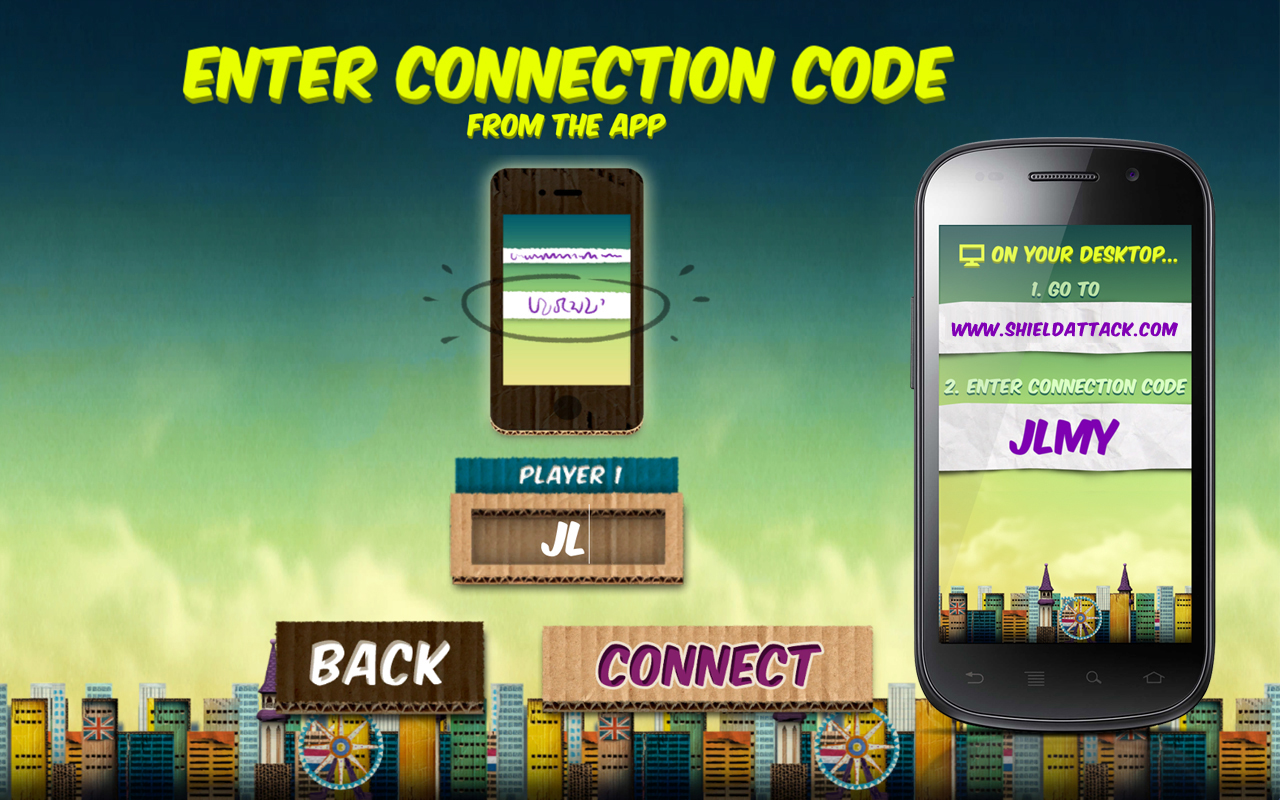 Multiplayer is a key feature of this game. It allows for up to 3 players to convert their smartphones into a shields and challenge each other for the highest scores.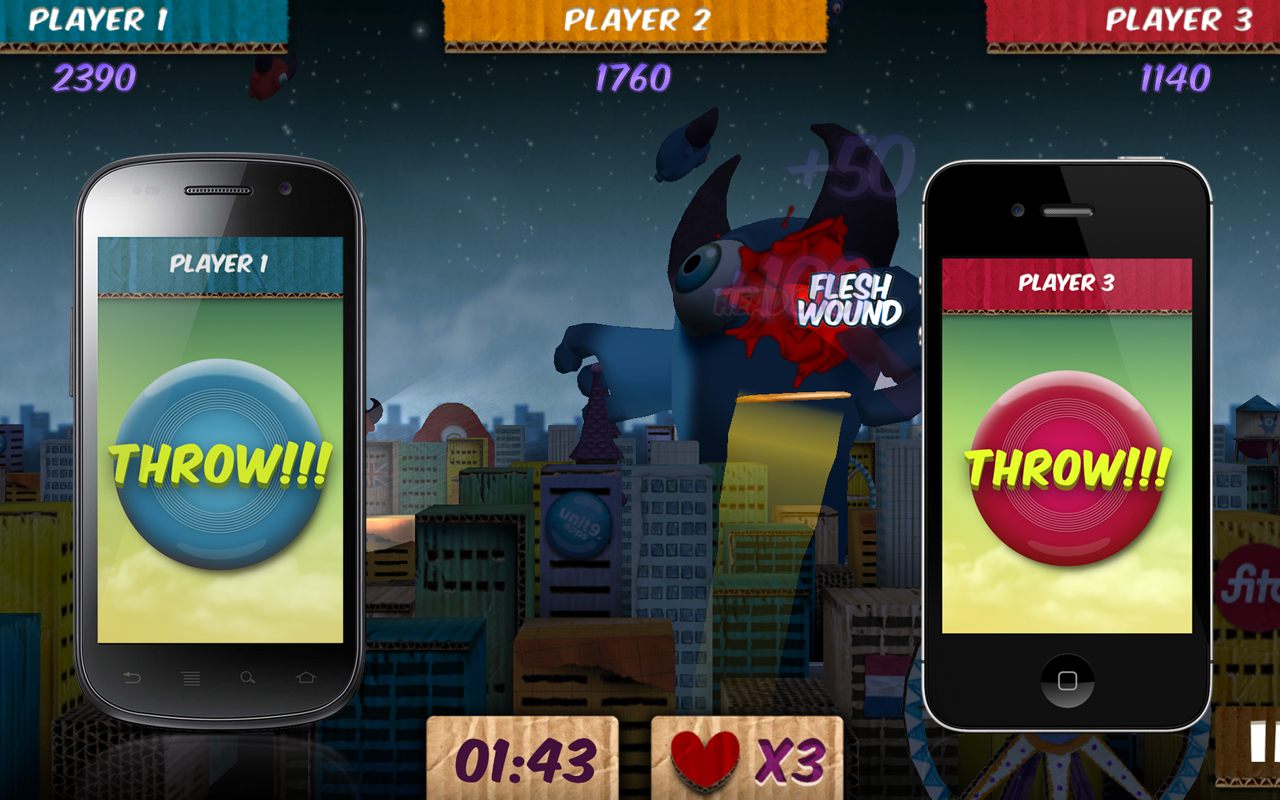 The longer you can survive, the further you will progress in the game and gradually discover new and harder game levels.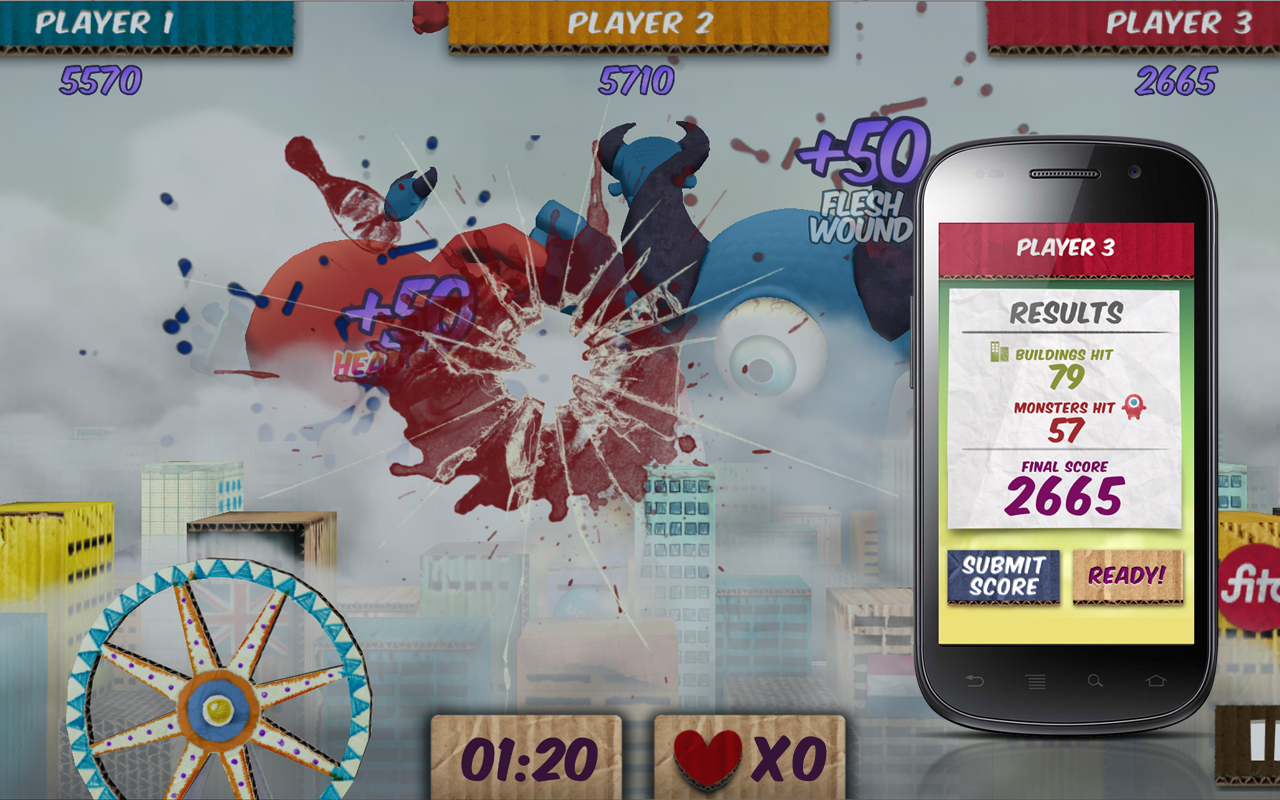 After each game session, the user can submit their score to a global leader board using their Facebook identity. They can also choose to submit a post with their score and a funny message to their Facebook wall.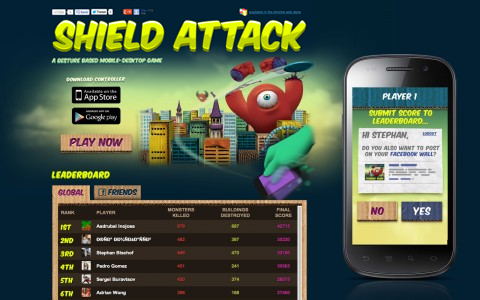 User have created some great Review Videos, please see below for some of the greatest:
Shield Attack is also available as a web app on the Chrome Web Store!
You can play Shield Attack on Facebook via the Facebook App Centre
Visit Page
---
Credits
Division

Director

Concept

Creative Director

Technical Director

Producer

Designer

3D

Character Design

Web Developer

Mobile Developer

Mobile Developer

Mobile Developer

Unity Developer

Production Company

Production Company