JetBlue Getaways "Get Away With It" is a week-long game show that doubled as a golden advertising opportunity for JetBlue.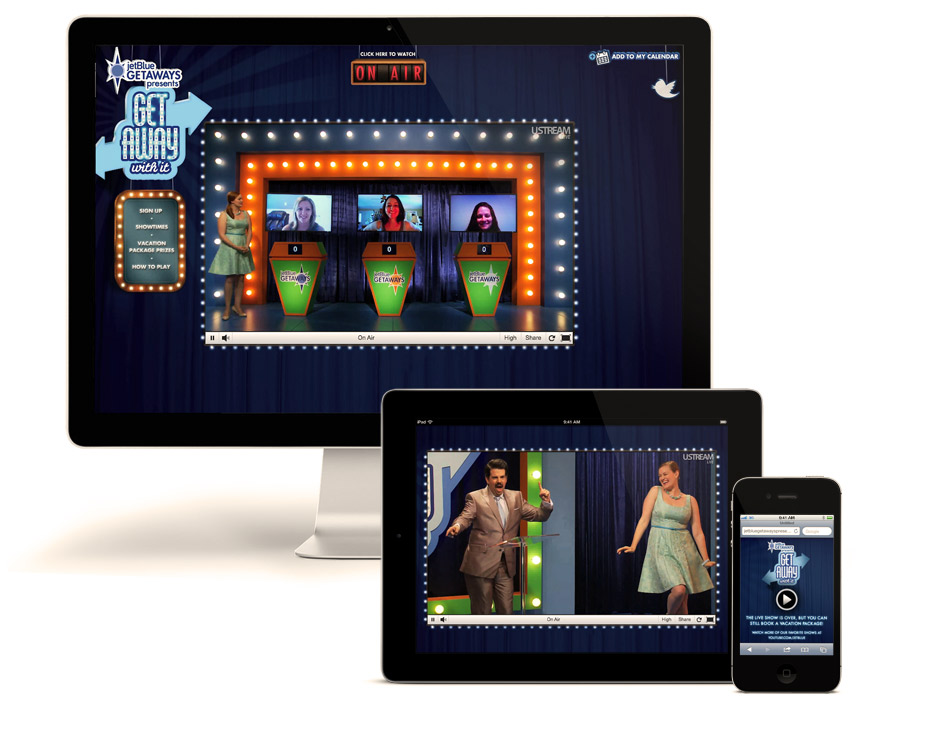 The completely live online game show featured a slick, mustachioed host, Mark Hammerberg, his bubbly sidekick, Hailey, and contestants who were beamed in via Skype.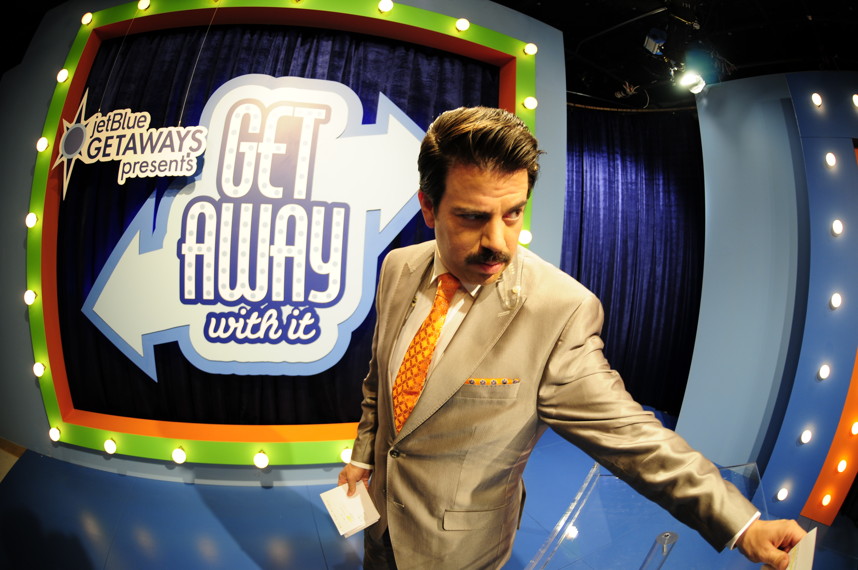 Five live shows aired daily for five days, from June 18 to 22, 2012, and the winner of each show received a fabulous JetBlue Getaways vacation package for two to destinations like Bermuda, Mexico, and Las Vegas.
It was a blast to make and a blast to take part in for the hundreds of thousands who tuned in on desktop, tablet, and mobile. The future of game shows? You heard it here first.
The rules are simple; the concept is brand new. Through the power of Skype, would-be contestants video-in to a central hub where they're selected to virtually participate in a trivia game of elimination. While hopeful contestants hang out in a virtual green room, those in the hot seat are digitally beamed onto HD screens sitting atop three podiums on a live game show set.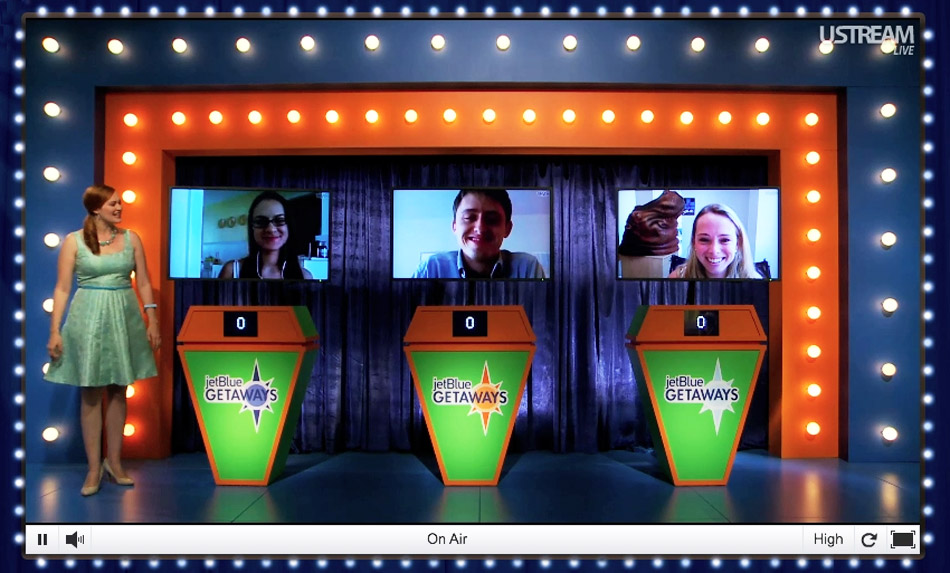 Contestants have seven seconds to correctly answer trivia themed around travel trivia and some of JetBlue's various getaways. Answer correctly, and you score 100 points. Answer incorrectly, and you're out as quickly as you were beamed in. The last player standing at the end of the 15-to-20-minute show wins a fabulous vacation for two courtesy of JetBlue Getaways.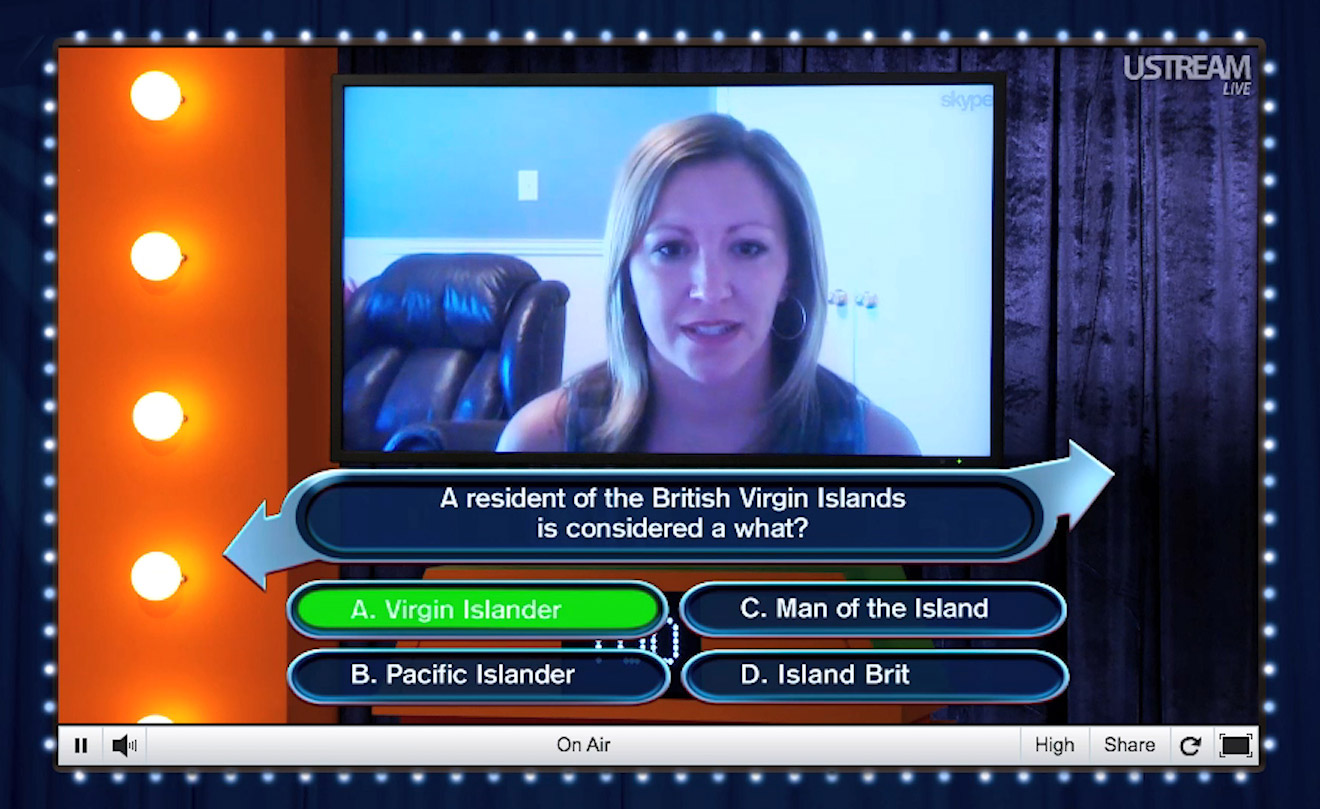 Built in HTML5 to be accessible from desktop, mobile, and tablet, the show aired five times a day daily from June 18 through June 22 2012. The site attracted a large number of page views with the average viewer spending an unheard of 10-plus minutes watching each broadcast.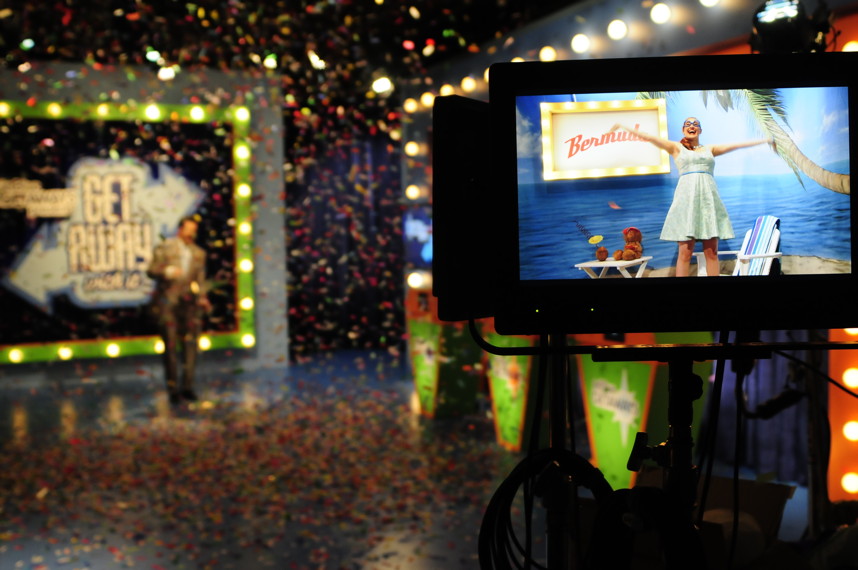 The format of the show and the questions asked were scripted, but the rest was improvised on the fly by the host and his assistant. Host Mark Hammerberg (the actor Jim Conroy in real life), shows off his beloved mustache and finds targets of comic opportunity in everything from the contestants' homes ("Are you in bed? Did we rouse you from a nap?"); to their facial hair patterns, and the things that inevitably go awry in a completely live broadcast ("Somebody needs to clean my podium!" he barks after a particularly heavy storm of colored confetti rains down on him, "it's like a rainbow of stress!"). His intrepid sidekick Hailey (Mamrie Hart) matches him beat for beat in cleverness and wit, knocking him down a notch when he gets a little too big for his britches. When one contestant, Skyping in from Germany, says she is based just outside Cologne, Hailey casts a weary look in Mark's direction and deadpans, fanning the air, that she's standing just outside a whole lot of cologne.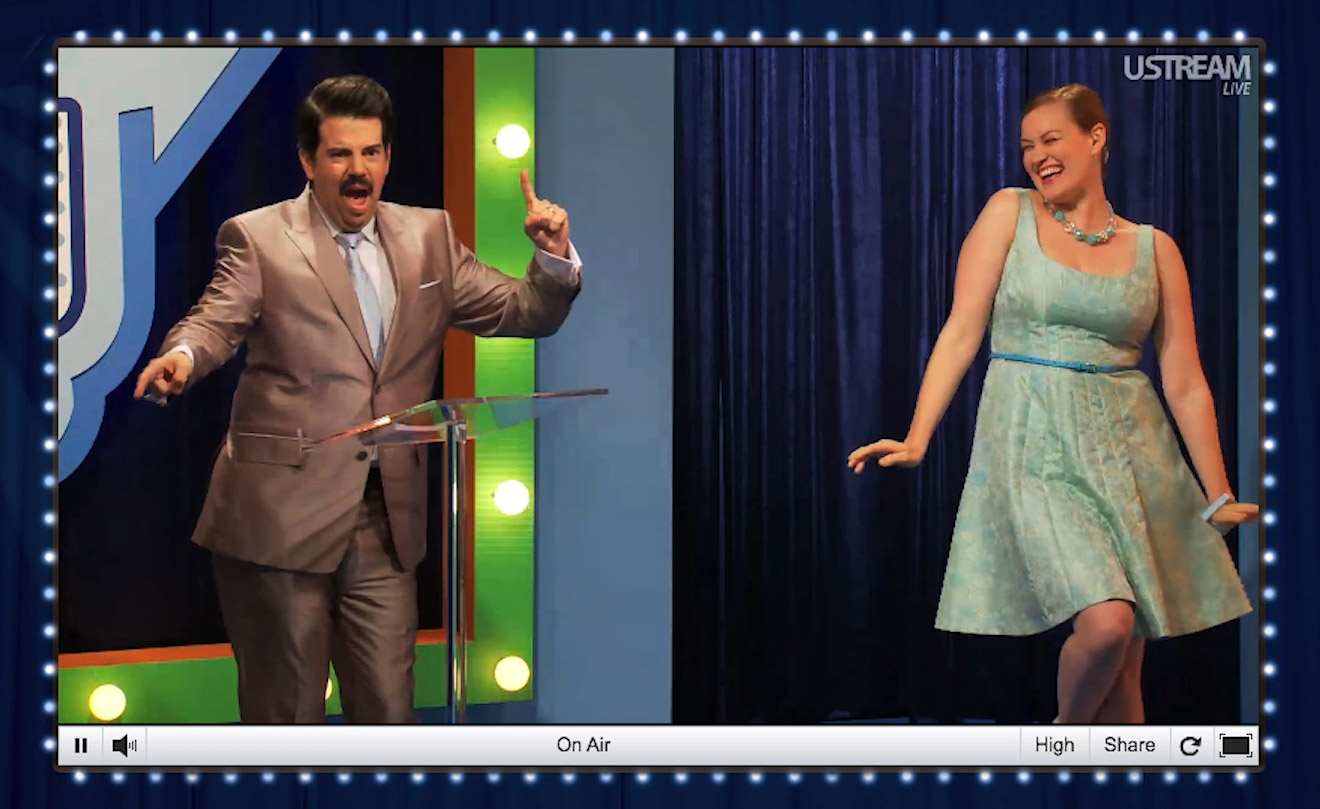 "The chemistry between Jim and Mamrie was what made the show," says UNIT9 director Michael Sugarman. "It was like watching a classic comedy duo from the '40s. After the first couple days of shooting, my job as director was basically reduced to watching them on a monitor in the control room, cracking up at their one-liners, and muttering prayers of thanks that they were sent to us."
Cheat sheet:
1. Built in HTML5 technology with broad cross browser and cross platform compatibility (desktop, iOs and Android browsers).
2. One of the first HTML5 sites to use live streaming technology.
3. Shot on location in a New York studio at the USTREAM studios.
4. 15-20 minutes of live content per show. 5 Shows a day for 5 Days.
5. The website was synched up to the live set and would change interfaces based on the live status of the show.
6. We developed a suite of bespoke apps to manage the quiz applications and vetting.
– User registration that managed over 13,000 users registration.
– Helping staff connect with, and interview 13,000users.
– Instantly beaming Skype users into the live show.
– Managing quiz scores on the fly with Wi-Fi app.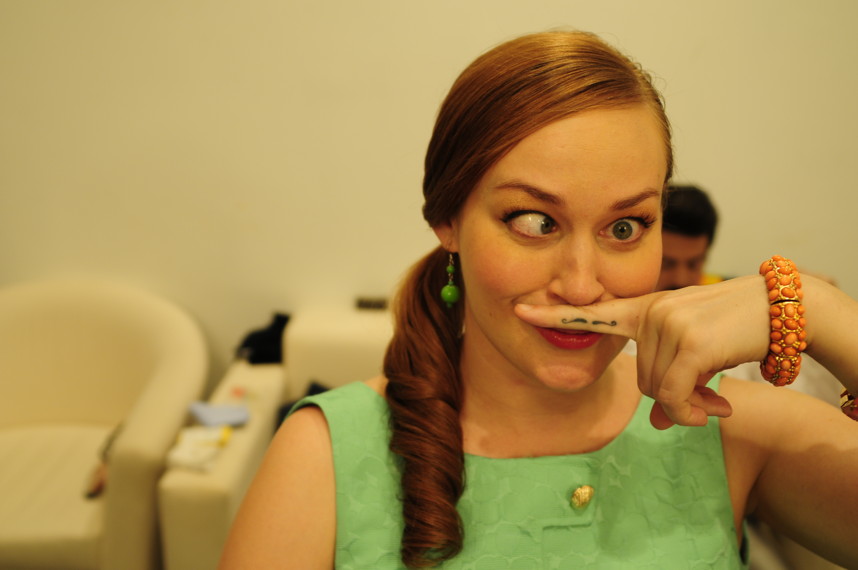 Visit Page
---
Credits
Director

Agency

Brand

Executive Producer

Live Action Producer

Technical Director

Project Manager

Design

Tech Lead

Mobile Developer

Back-end Developer

Tech Lead (On Set)

UX

Quality Assurance

Systems Administrator

Live Action Production

NY Broadcast Service

Production Company

Game Show Control Panel
Project Link

Technology

Platform

Kind

Target Market

Release Date

2012-06-04