Martin Percy joins The Pixel Lab2012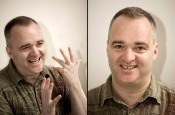 Thirty-four of the brightest cross-media professionals in Europe will gather in Potsdam in July for The Pixel Lab 2012, Power to the Pixel (PttP) has announced. Amongst them, UNIT9 director Martin Percy, who will participate with The KnowYourself Machine.
Now in its third year, The Pixel Lab is PttP's unique cross-media workshop, a residential training event at which participants from 16 different European countries come together to develop and exchange skills and ideas to create, produce and finance cross-media properties.
The Pixel Lab 2012 will run from 1 to 7 July at the Resort Schwielowsee, Potsdam, Germany. Producers attending with a project attend a second workshop run in London in tandem with PttP's Cross-Media Forum, from 16 to 19 October held in association with the BFI London Film Festival. when one producer will be awarded The Pixel Lab Prize. Up to three producers will be selected to present their project at TorinoFilmLab's Final Meeting Event in November.
Pixel Lab tutors include Michel Reilhac, executive director of ARTE France Cinéma, Sean Coleman, cross-media writer and producer, Ben Grass, managing director of Pure Grass Films, and Michelle Kass, film and literary agent of Michelle Kass Associates.